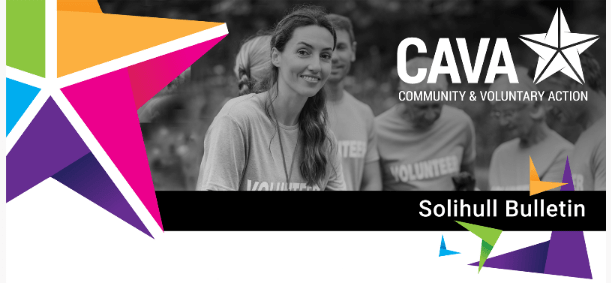 Hello
Welcome to Solihull CAVA's COVID-19 update. In this update we have news of SMBC's new contact centre for those wishing to volunteer during the crisis; guidance on how to volunteer safely, news of support for social enterprises and a new fund for community initiatives helping those impacted by the virus.
In this edition…
Volunteering
Social Enterprise Support
Funding
If you would like details of your group, relevant news, or volunteer opportunities to be included in our next update, please send a short paragraph to solihullinfo@wcava.org.uk or call us on 07966 380289.
Volunteering
Here 2 Help Solihull
If you want to volunteer (and if it is safe for you to do so) and if you can't find a local group covering your area, then you can contact 'Here 2 Help Solihull' on:
0121 704 6811 or here2helpsolihull@solihull.gov.uk
For further details please see: https://www.solihull.gov.uk/…/socialservicesand…/Coronavirus
Volunteer recruitment
If your group needs volunteers during the corona virus, please do get in touch with Verity at Solihull CAVA on: 07966 380 289 or email vthompson@wcava.org.uk
Volunteer guidelines
For guidelines on volunteering safely, please see:
https://www.gov.uk/…/coronav…/coronavirus-how-to-help-safely
For guidelines on safeguarding for community volunteers please see:
https://www.gov.uk/…/safeguarding-factsheet-community-volun…
Social Enterprise Support
Social Enterprise Covid-19 Helpline
In response to the Corona Virus pandemic, and its direct impact on the social enterprises and social entrepreneurs across Birmingham and Solihull, iSE CIC is launching a #COVID19 Social Enterprise Helpline to support the sector in these challenging weeks and months. iSE's expert Social Enterprise advisors will be able to:
Provide information on newly available funds, grants, loans and social investment organisations.
Signpost you to relevant resources, websites, toolkits and external support.
Give Advice and Guidance on your options and next steps if you are concerned about the current impact on your social enterprise.
Broker connections to organisations or wider support services beyond iSE, DSEQ and our Women's Enterprise Hub.
Enable access to wider iSE support services such as workshops, training, funded projects and start up.
Book an in-depth coaching support session for social enterprise CEOs, managers and social entrepreneur leaders.
iSE seeks to support and help guide the social enterprise sector through this extraordinary #COVID19 challenge by sharing knowledge and expertise, building resilience, adapting social enterprise services, and catalysing business continuity and sustainability.
For more information please contact: 0121 771 1411 or info@i-se.co.uk
Or see: www.i-se.co.uk
Funding
Serco Foundation – Coronavirus Community Support Fund
The Serco Foundation's newly launched Coronavirus Community Support Fund enables any Serco employee to nominate any voluntary organisation that is providing meaningful and valuable support to others during the corona virus pandemic.
This might be a food bank offering supplies to isolated people, or a local charity caring for the elderly or disabled. It might be a community or religious centre providing mental and physical care to those in greatest need, or a not-for-profit education provider helping parents while schools are shut.
The Foundation is particularly keen to offer grants to organisations supporting:
the elderly
the vulnerable
those affected by school closures.
If you know of a good cause that could benefit from financial support at this time, please contact Partnership Coordinator Theresa Comiskey: 07718 193 934 or Theresa.Comiskey@serco.com