Parish Rooms
Official Opening of the Parish Rooms on November 18th 2011:
The Rt Hon Caroline Spelman MP and the Mayor of Solihull Cllr Irene Chamberlain cutting the ribbon held by William Holt and Carter Hewitt, year 7 pupils at Alderbrook School.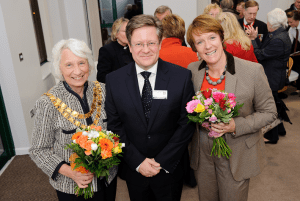 Windsor Herald, from the College of Arms, who designed the coat of arms for the parish, formally presenting this to the Parish Council.
Richard Holt, Chairman of the Parish Council with the Mayor and Caroline Spelman MP.
Chairman's Speech from the Official Opening on Nov 18th 2011
Speech Richard Holt, Chairman Dickens Heath Parish Council
The Parish Rooms, 1 Wharf House, Waterside, Rumbush Lane, Dickens Heath
18th November 2011, 5.30pm
Ladies, Gentlemen and Children, may I welcome you all here to Dickens Heath and the new Parish Rooms of the Dickens Heath Parish Council. My name is Richard Holt and I am the Chairman of the Parish Council. The Parish Council comprises of 5 Parish Councillors all of whom live in Dickens Heath; I am pleased to introduce my colleague councillors here as Alyson Glenn, Vaseem Arfan, Philip Brandum and Robert Cudmore.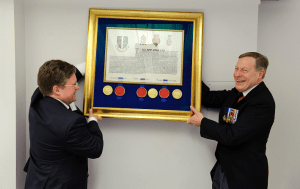 I would like to extend a warm welcome to our official guests, the first citizen of Solihull, the Worshipful the Mayor Mrs. Irene Chamberlain, a distinguished councillor with 15 years service who has previously been vice chairman covering Health and Social Care issues and is also (amongst other things) a member of the University of the 3rd Age – an organization we would encourage here to promote social activities for our senior residents.
I would also welcome the Right Honourable Caroline Spelman MP, our constituency MP here for Meriden and Secretary of State for Environment Food and Rural Affairs. A minister of the crown who is doing an outstanding job at local, national and international level. It is a key feature of our parliamentary democracy that our MP is rooted to her local constituency, in particular she has raised with us, amongst other things, concerns about the lack of facilities for young people, an issue which we are keen to address and resolve.
We have a number of distinguished guests – Windsor Herald (Mr. William Hunt) from the college of arms, Past Mayor and Mayoress Cllr Ian and Sheila Courts, Mr. Sedgwick Headmaster of Alderbrook school who is working with us to develop a youth council, Mark Rogers Chief Executive of SMBC and representatives from the Citizens Advice Bureau. I would like to welcome too our Borough Councillors and other Parish Councillors from the local area.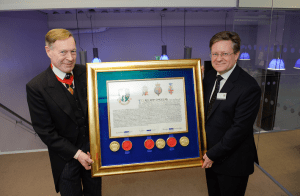 And most importantly, the residents of Dickens Heath here today especially representatives from Dickens Heath mother and toddler groups and the children here.
Everyone is most welcome and equally and indivisibly important to us.
This Parish Council is one of the youngest members of the family of local democracies and was established by Solihull Metropolitan Borough Council's reorganisation of Hockely Heath PC that incorporated the settlements of Dickens Heath, Tidbury Green and Cheswick Green in April 2009. As the first tier of local government, and duly elected as councillors we have the challenge to reflect the nature of society here in Dickens Heath.
Dickens Heath is a distinctive settlement, forged as a new village at the turn of the millennium. When the village started to be developed it had the highest per capita birth rate in Solihull, I thought that was significant enough, but ..oh no… having spoken to Borough Councillor Macawitz at the Remembrance Service on Sunday he tells me that the birth rate in Dickens Heath is in fact the highest in Europe!
Now, an urban myth has developed that the birth rate here is supposed to be linked to the poor bus service in Dickens Heath, with nothing to do in the evenings we made our own entertainment! I know the s7 bus service (which only operates once an hour) has come in for a lot of stick, and not being prone to exaggeration I wouldn't have dreamed I could blame it for being the cause of our burgeoning birth rate.
This reminds me of one of Tony Benn's memoirs, to quote him,
"I remember once when the Russians and the Americans had a space race, to see who could land on the moon first, the Russians landed a space vehicle on the moon. It was like a World War I tank, with caterpillar tracks and it went across the surface of the moon, and I had a letter from a constituent in Bristol that I have never forgotten. It said "Dear Tony, I see that the Russians have put a space vehicle on the moon. Is there any possibility of a better bus service in Bristol?"
Maybe there is an echo of HS2 and the billions about to be spent but we can't access a proper local bus service causing pollution with the use of cars; food for thought.
Dickens Heath residents have put up with the disruption a new development causes, but we are now beginning to see a village settlement which is more than a developers collection of houses, I hope we will see a community with heart and a sense of community that this parish council will play its part in encouraging.
The original planning concept for Dickens Heath was that it should have the characteristics of an established community, a village hall, library, doctors surgery and village shops, self contained so that you did not have to leave the village and could walk around without the car dominating, creating a sense of community and well being, these are classic characteristics of an historic English village but forged for a new millennium.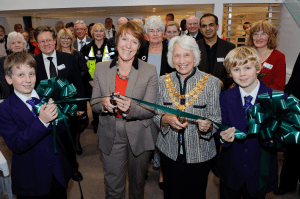 This historic reference is invaluable as a source from which to draw faith and confidence in the future. Many of the characteristics of this new parish council, such as our elected members, our chamber for decision making, the importance we accord to committees with our commitment in particular to the proposed youth committee and activities for senior residents; these forum enable a voice for local people to feel that they are being listened to, but importantly that action is taken. Actions speak louder than words.
A recent example of local democracy was a visit from three year 7 pupils from Alderbrook School. They arrived unannounced and spoke to the clerk to the council; they were polite and respectful and stated in clear terms that they felt there was not enough for them to do in Dickens Heath and they asked if we could build them a skate board ramp. This echoes concerns expressed previously by Caroline Spelmen about lack of facilities; but what a profound event. Our rooms were open and we were here and able to take note of that, and today all in this room can hear their petition; what a wonderful example of local democracy.
But as I said earlier, actions speak louder than words. We need to find a way of filling that gap and I am confident with our colleagues from Solihull Borough Council we can ensure the completion of the development provides quickly these facilities for which I understand £40,000 of money is already available within the consortium of developers funds, we need to find a home for it.
We are keen to establish social meetings for our senior residents to bring together our community as a whole and at our last meeting heard a presentation from Jason Ward of SMBC concerning poverty, especially in our senior population here in Dickens yes – yes poverty is not geographical here in Solihull it can be anywhere. In particular the often misguided (in my opinion) sense of stigma attached to claiming means tested benefits – the pension credit. We hope to address this by establishing a senior's social meeting – perhaps the first meeting can be "Bingo and Benefits".
This council is a modern reaffirmation of the ancient bond that has linked crown, parliament and people for hundreds of years. The days when Dickens Heath was limited to being a part of Hockley Heath Parish Council and lacked it's own civic identity are now over. Today, across a whole range of important issues, this Council is carving out a distinctly Dickens Heath position.
I commend my colleague councillors, in particular, for their commitment to work in partnership with local residents and the establishment and refurbishment of these premises. At a time where there is disengagement from politics, we are the most local and tangible outpost of local government and can contribute and play our part in supporting our residents petitions, from the regular meetings of our committees, from our engagement with both our senior residents and young people (in particular the establishment of a youth council) and from our determination to employ the latest technology to reach out to the electorate.
These new Parish Rooms are rooted here in the middle of Dickens Heath. Our coat of arms granted and designed by Windsor Herald of the College of Arms with the Motto "In Rure Floreo" translated "In the country we flourish" link the purpose of this Council with our residents to enable us to support our residents in their pursuit of happiness and social development, I hope and pray that this council will never lose sight of the fact that we must be close to the people we serve and be seen as a bold statement of Dickens Heath's standing in the civic society of Solihull.
Thank You.
I would now, as is customary, propose a toast.
The loyal toast: "Ladies and Gentlemen" "The Queen"
And second toast,
"Ladies and Gentlemen" "The Metropolitan Borough of Solihull"
I would now ask the Worshipful the Mayor of Solihull Cllr Irene Chamberlain to say a few words.
I would invite Windsor Herald to formally present and hand over the grant of arms to Dickens Heath Parish Council and say a few words.
I would now invite the Right Honourable Caroline Spelman MP for Meriden to say a few words.
I would now like to call upon the Mayor of Solihull and Caroline Spelman to cut the ribbon and declare these rooms officially open.
I would now ask for prayers to be said, by Reverend Theresa Jones.
May I thank you all for your attendance, this now concludes the formalities, I would encourage you all to stay and enjoy the refreshments.
Activities in the Parish Rooms
Bridge
Are you interested in playing Bridge in the Parish Rooms?
Please contact Julian by text or voice on 07714 253003.
Hopefully we can get a few tables started.