Official Opening of the Parish Rooms on November 18th 2011:
The Rt Hon Caroline Spelman MP and the Mayor of Solihull Cllr Irene Chamberlain cutting the ribbon held by William Holt and Carter Hewitt, year 7 pupils at Alderbrook School.
Windsor Herald, from the College of Arms, who designed the coat of arms for the parish, formally presenting this to the Parish Council.
Richard Holt, Chairman of the Parish Council with the Mayor and Caroline Spelman MP.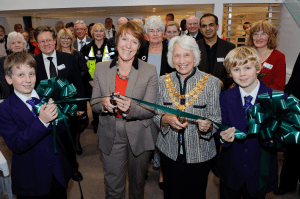 New 'Parish Council Rooms' at 1 Wharf House, Waterside
The refurbishment of the 'Parish Council Rooms' is now nearing completion. The Parish Council is planning an open day on a Saturday afternoon early in November plus a grand opening on Friday November 18th 2011 5-6pm. We are hoping that both the Mayor of Solihull and Caroline Spelman MP will be present to open the new community facilities.
The Parish Council Rooms community facilities will consist of a meeting room upstairs and a community space downstairs. These will be available for use, free of charge, to community groups and agencies and to residents for community purposes.
The Parish Council would like to encourage the establishment of community groups. Examples might be a bridge club, chess club, amateur photography, fine art club, gardening club, youth council, University of the 3rd Age/friends in retirement/pensioners and charitable special interest groups such as Citizens Advice Bureau/volunteering/heart support/cancer. And any other ideas that residents may have. Let us know what you think.
If you are interested in using the Parish Council facilities, or have any ideas for their use, please come along to the open day (date to be confirmed), or contact the Parish Clerk.
And please do sign up for latest news emails, so that we can keep you updated.